So much happens at the beginning of each day and it sets the tone for how we approach each sunrise. Shake your world up by improving your health and expecting success and by knowing how to start your day with energy and excitement.
Every day brings a new opportunity for us to enjoy life and maybe even learn about making lemonade out of those lemons that get thrown at us. In order to start the day off right, we need our bodies and minds in prime condition to enjoy the successes, overcome the obstacles, and deflect the garbage.
Get ready because we are here to show you 2 crucial strategies to help start your morning off right. The first is related to providing your body with the nutrients its needs to operate at a high level. The second is connected to your state of mind whereby you will be dedicating and focusing your thoughts on expecting exciting things to come your way.
Yes, yes, it's more than just looking for the positive or being optimistic which is definitely good. It's creating an expectation to come out as a winner and encouraging others around you to do the same. Not winning over someone but winning with them.
Give Your Body What It Needs Please
We can't keep pretending that the chips and cookies and ice cream are going to do the job. Look around and see how much the medical world is flourishing because people are just not taking care of themselves adequately. There are simple ways to turn this around.
We have the solution in HB Naturals, an established company based out of Kentucky, USA that has formulated an all organic superfood powder called Nourish. It contains 30 different organic fruits, vegetables, grains and sprouts. Each scoop of this nutritional supplement powerhouse provides the anti-oxidant ORAC equivalent of 7 servings of organic fruits and vegetables.
You will find organic sprouts such as buckwheat, broccoli lentil and flax and sprouts have been found to be 30 times more nutritious than cooked foods. High levels of B Vitamins and other essential nutrients from Nourish's plant-based whole foods provide the necessary building blocks for increased physical and mental energy.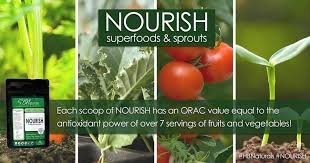 This is ground-breaking stuff and all can afford it since a 28 day supply costs only $40.  Try it now by going to the link below:
https://shophbn.com/nourish.asp?sponsorsite=747036
Your Mind Is A Powerful Thing – For Good or For Bad
Our attitude shapes our lives and shapes each day. To start your day off right, your mind must be right. You can develop an expectation for good things to happen just as easy to look for the bad stuff.
My goodness, which would you prefer? This does not have to be a chore or a burden for your brain. A lot of it has to do with what you are constantly looking at and what you are envisioning throughout the day. This does mean that some changes need to be made in your lives.
Start setting up constant reminders for your eyes to see for great things to come to pass. This is so much easier if you have a faith in God. Anyone can do this, though. You will find that you can train your mind just like it gets trained by the world around us to expect bad things to happen.
Now that you know how to start your day with energy and excitement, get creative with the reminders you can use and get your first month's supply of Nourish. Join us on this amazing path to a healthy and exciting life, Stop settling for poor health and a dreary outlook and discover how to start your day with energy and excitement using HB Naturals Nourish superfood.