It is becoming alarmingly more common for people to develop dementia and Alzheimer's symptoms these days. Many think there is nothing that can be done to prevent this or minimize these conditions, but research is showing that there are foods to increase brain power.
And we believe the best place to start is with HB Naturals "Mind" superfood powder. We are seeing the average life expectancy continue to grow, but the troubling thing for so many is that our bodies are outlasting our brains. These crippling mind-related disorders are becoming more and more prevalent and devastating the lives of a growing number of families.
What Can Be Done To Turn This Trend Around?
Plenty – diet and exercise are the 2 biggest things, and we will be focusing on the diet aspect here. We will provide a list of foods to increase brain power.
The major focus will be on HB Naturals "Mind" superfood blend of specially formulated organic plant-based ingredients to help maximize your brain's performance. We call this the "super-charged superfood" powder because it targets all those processes that are working to undermine our cognition functioning such as inflammation and free radical oxidation.
Here is just a bit about oxidative stress occurring in our brains before we move on to the exciting stuff. Oxidative stress is linked to brain cell being damaged and this happens when brain and nerve cells are not able to regenerate. Let's see how "Mind" can lessen the effects of this process.
"Mind" Superfood Strategy For Boosting Brain Power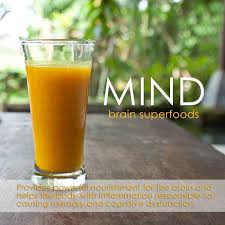 Help to preserve your brain from cognitive from decreasing cognitive functioning (memory loss, trouble concentrating, decision-making),
Maximize your brain's performance for better memory recall, attention span, clarity, and organizing thoughts,
Support your mind and body for deep and restful sleep,
Produce a calming effect for your mind and improve your mood.
Add 1 scoop of this organic superfood powder to any healthy drink you desire every morning (this means no Dr. Pepper folks). Just like our bodies need the right building blocks to stay healthy and strong, our brains need their special components for best functioning. Get started now below:
https://shophbn.com/mind.asp?sponsorsite=747036
The "Increase Brain Power" Organic Ingredients
Carrot Juice: Strengths brain function since the beta-carotene has been shown to improve cognitive functions and diminish the risk of memory problems and dementia. Oxidative stress is linked to brain cell damage and occurs when brain and nerve cells can't regenerate.
Mucuna Pruriens (velvet bean): A legume which has high levels of levodopa which regulate behavior, sleep, mood, memory, and learning.
Bacopa Monnieri( water hyssop): A perennial herb used to promote concentration, learning, and memory functioning for app. 3,000 years.
Curcumin (Turmeric): A study from Ohio State University discovered that curcumin has the ability to reduce amyloid plaque that is prevalent in the brains of those suffering with Alzheimer's. It is one of the most powerful naturally occurring anti-inflammatory agents ever identified.
Licorice Root: this sweet tasting bean plant contains a unique compound believed to be able to stop nerve cell loss in the brain.
Now let's review the kinds of foods that you can easily get at your grocery store and try to stay with organic products if possible.
Add These Foods To Increase Brain Power To Your Regular Diet
Fish like salmon, trout, mackerel or sardines are great brain food due to the high level of essential fatty acids (EFAs) such as the EPA and DHA omega-3's.
Coffee has shown to improve memory and potentially decrease the risk of dementia. Please check out our NOVA SMART COFFEE article with added nootropics (brain functioning enhancers) or go to the HB Naturals site below:
https://shophbn.com/novacoffee.asp?sponsorsite=747036
Blueberries have been proven in numerous studies to be effective in delaying and improving short term memory loss and provide some protection from onset of Alzheimer's disease or dementia, all because of their ability to reduce inflammation.
Nuts and seeds are natural plant-based sources ofomega-3 fatty acids and antioxidants such as vitamin E.
Now is the time to start taking bold action to keep your brain functioning at top levels or to stop the decline that you may be experiencing, and even regain some cognitive ground that was lost.
Here's to you top of the line brain health,